New, Minimally Invasive and Minimal Incision
Spine, Pelvis and Hip Procedures
We are consistently researching the latest techniques, procedures, and surgical instruments that can provide our patients with the highest quality care.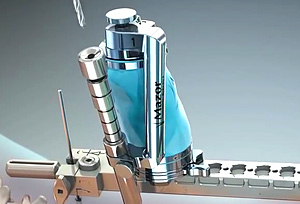 Sacroiliac (SI) Joint Fusion Utilizing Mazor Robotics Renaissance® Guidance System
Mazor Robotics technology takes sacroilliac joint fusion procedures to the next level with its consistent accuracy. Furthermore, it better enables minimally invasive surgery by replacing the surgeon's need for a direct field-of-view with a surgical guidance system.
Features and Benefits: Patients benefit from high levels of accuracy along with the advantages of MIS, in addition to lower complication rates, reduced post-op pain, and faster recovery compared to freehand surgeries.
View our SI Joint Fusion page to learn more.
---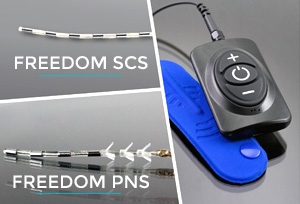 Implantable Neuro Stimulators
for Chronic Full-Body Pain Relief
Implantable Nerve Stimulators are compact, micro-stimulator systems that treat chronic intractable pain by targeting individual nerves throughout your body. The stimulators are implanted via a minimally invasive, outpatient procedure and are operated by a wireless external controller.
Features and Benefits: a minimally invasive procedure that can be done in office that can lower patitent costs and is covered by many insurance carriers. This procedure is an effective chronic pain mangement alternative where physical therapy and mediations have not provided a positive outcome.
View our Neuro Stimulators page to learn more.
---
XEOMIN® (incobotulinumtoxinA)
for Cervical Dystonia
XEOMIN is a prescription neurotoxin therapy used to help block uncontrolled nerve signals from the brain in adults with cervical dystonia and helps reduce symptoms like abnormal head position, neck pain and shoulder pain due to uncontrollable muscle spasms.
Features and Benefits: an injection therapy that can be done in office which can lower patitent costs and provides effective reults without the need for surgery or extended physical therapy. There is also a co-pay reimbursement program from the manufactrurer available for patients who qualify.
View our Cervical Dystonia Therapy page to learn more.
---
Lumbar Micro Endoscopic Discectomy
This minimally invasive, endoscopic procedure is performed through a tubular device. It is designed to relieve pain caused by herniated discs pressing on nerve roots. The herniated portion of the disc is removed and the area is cleared, which allows room for the nerve to move back to its normal position.
Features and Benefits: an outpatient procedure with faster recovery and return to normal activities; a smaller incision and scar compared to other open techniques, less trauma and pain. lllustration from ViewMedica
View the VIDEO for more information.
---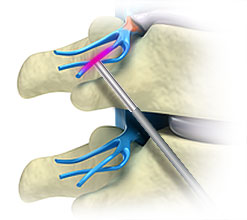 Radiofrequency Ablation (RFA)
We utilize this minimally invasive, percutaneous approach to reduce chronic low-back and neck pain related to arthritis. RFA uses x-ray guidance and a needle with an electrode, where an electrical current produced by a radio wave is used to heat up a small area of nerve tissue, thereby decreasing pain signals from that area.
Features and Benefits: proven to be a safe and effective way to treat many forms of pain; procedure may be performed on outpatient basis; pain relief can last from 6 to 12 months and in some cases, even longer; high sucess rate for pain relief.
---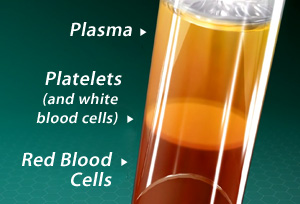 Platelet Rich Plasma (PRP) Therapy
This non-surgical therapy is an injection of a concentrated mixture of the patient's own blood. PRP injections have been shown to relieve acute and chronic pain and accelerate healing of injured tissues and joints.
Conditions aided by PRP include cartilage tears, osteoarthritis of the spine & hip and ligament sprains & tears. PRP is also beneficial for facet joint injections and cervical & lumbar disc augmentation.
Many famous athletes have received PRP for various problems, such as sprained knees and chronic tendon injuries. These types of conditions have typically been treated with medications, physical therapy, or even surgery.
Features and Benefits: an outpatient procedure that can aid in faster recovery and return to normal activities where other treatment outcomes have limited results.
View our Platelet Rich Plasma Therapy page for more information.
Links to other websites and content are provided for informational purposes only. Such links in no manner indicate Panhandle Orthopaedics' endorsement, recommendation, affiliation, or relationship with the owners of such linked websites or the services or goods presented in such linked websites unless otherwise noted. Panhandle Orthopaedics has no control over or responsibility for the content or availability of any linked websites or the services or goods presented in such websites. Panhandle Orthopaedics has no conflicts with, nor does it receive any funds from any of the companies listed as a result of placement. Dr. Michael Gilmore currently has a business interest in The Surgical Center for Excellence, LLLP.

All trademarks and trade logos reproduced in this website which are not the property of or licensed to Panhandle Orthopaedics are acknowledged on the website.