XEOMIN® (incobotulinumtoxinA) for Cervical Dystonia
XEOMIN is a prescription neurotoxin therapy used to help adults with cervical dystonia by reducing symptoms like abnormal head position and neck pain.


About Cervical Dystonia
Cervical Dystonia is uncontrollable and sometimes painful muscle spasms affecting the neck and shoulders that is caused by incorrect signals from the brain.

How Xeomin Neurotoxin Therapy can help you
In people with cervical dystonia, nerve signals tell the muscles to contract when they shouldn't. This can lead to abnormal head positions, uncomfortable movement, and pain. XEOMIN helps block these signals. This helps decrease muscle activity and neck pain. Some muscles may still contract, but less severely.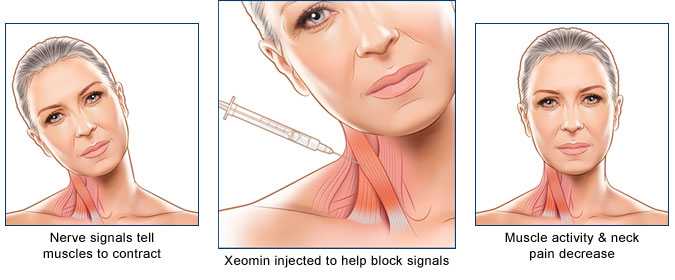 Some Frequently Asked Questions

How is XEOMIN given?
XEOMIN is injected directly into the affected muscles. Your doctor will decide how many muscles need to be injected and the dose per muscle.
When will I start to see results?
For most people, the first effects are typically seen within 7 days. Everyone is different, so you should talk to your doctor if you have any questions or concerns about your treatment results.
How long does it last?
Effects of Xeomin neurotoxin therapy usually last about 12 weeks, but can last longer or shorter, depending on the person.
How much does it cost?
As part of its commitment to patients, Merz, the maker of XEOMIN, created the
XEOMIN Patient Co-pay Program. If you are eligible to enroll in this program, Merz will directly reimburse you for your eligible out-of-pocket costs for medication and related administration fees - Learn more about the eligibility criteria
Would you like to know more about Xeomin?
Visit the Xeomin website through the links below for even more details.
Living with Cervical Dystonia

Treatment with Xeomin

More FAQs

Patient Brochure