Certified Physician
Physical Therapy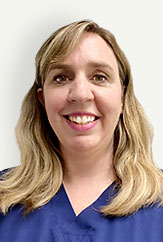 Lindsay Koppes, PT, DPT
Lindsay is a licensed Physical Therapist with 12 years experience. She received her Doctorate of Physical Therapy at the University of Washington in 2010. Lindsay was a collegiate softball player at the University of West Florida where she earned her Bachelor of Science degree in Athletic Training in 2006. Lindsay found her love of physical therapy when she injured her pitching arm in high school and received outpatient orthopaedic physical therapy in Louisiana.
Lindsay worked as a Doctor of Physical Therapy at FTG Physical Therapy in Washington State for over 10 years until she moved back to Florida in 2021. Lindsay follows the Gary Gray functional based style of physical therapy, which tailors the exercises and treatment to the individual based on the patientís needs and goals. Lindsay has worked with a variety of patients over the years including post-surgical, postural dysfunction, work injuries, and sports related injuries.
When she is not working, Lindsay enjoys spending time with her husband and two sons.
---
Hear from Our Happy Patients
I love Lindsay she's a good physical therapist helping me push through the work and get me stronger and stronger. Every time I'm there I know that it's helping me to get my strength and body back to where it was.
CJ