About BMAC Stem Cell Therapy
BMAC Stem Cell Therapy is an injection therapy that is part of the Orthobiologics category of treatment - which are substances made from elements that are naturally found in your body. Below are some common questions asked about this treatment.
WHAT EXACTLY IS BMAC STEM CELL THERAPY?
BMAC (Bone Marrow Aspirate Concentrate) Stem Cell Therapy is a minimally invasive procedure where a concentrated mixture of stem cells (which have the ability to change into specific cells needed to rebuild affected tissue), in addition to platelets and proteins, is created from a sample of a patient's bone marrow.


WHAT CONDITIONS CAN IT TREAT?
Conditions include plantar fascitis, meniscus tears, osteoarthritis of the spine, hip and knee, ligament sprains, rotator cuff tears and tennis elbow. PRP or BMAC is also beneficial in facet joint injections and cervical & lumbar disc augmentation.
This concentrated mixture has shown the capability to promote healing of bone and soft tissue (such as ligaments, tendons and muscle) as well as reduce pain from chronic symptoms such as arthritis and tendinitis.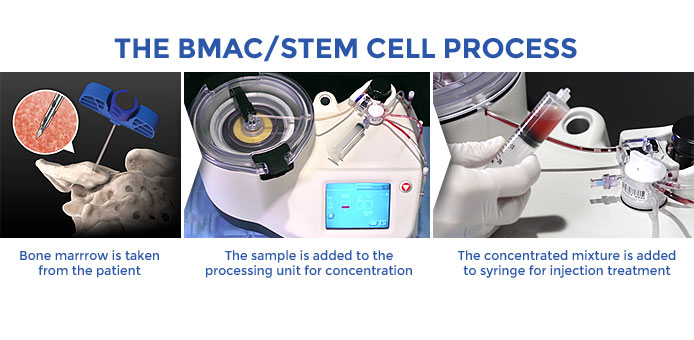 HOW IS IT DONE?
This mixture is created and applied in three stages. First, by inserting a surgical instrument into the pelvic area of bone and extracting the marrow by needle to obtain the bone marrow. Then, the marrow is placed in a special processing unit (the Arthrex Angel System), which will concentrate your body's stem cells, platelets and growth factors. The concentrated mixture is transferred into a sterile syringe and injected into the area needing treatment.


WHY WOULD I NEED THIS?
When other types of treatment, such as physical therapy or medications cannot effectively treat the condition, and if surgery is not an option, our physicians may consider BMAC Stem Cell Therapy.


WHAT CAN I EXPECT FROM THIS TREATMENT?
Most patients begin to see improvement approximately 4 to 8 weeks after treatment, with an increase in strength and stability, along with a reduced amount of pain. However, recovery time can vary significantly depending on the extent of deterioration from your particular chronic or acute condition. Our physicians will be able to determine an appropriate outcome and recovery time once you have been diagnosed.


IS THE TREATMENT PAINFUL?
Patients may experience some soreness in the area where the bone marrow was obtained and also in the area of treatment for a few days after a procedure. Since this is an injection-based treatment you would experience much less pain compared to a more invasive surgical procedure.


HOW MUCH DOES IT COST?
Please contact our office at 850-784-7724 for a complete cost breakdown.
It is important to note that although BMAC Stem Cell Therapy is an innovative, minimally invasive and effective treatment option, insurance providers do not cover it at this time. The procedure is currently considered experimental, and/or investigational, or listed as not medically necessary by providers, so the patient will be held responsible for all costs related to this procedure.