Introducing MACI® Cartilage Repair Using Your Own Cells.
MACI is an ACI (autologous chondrocyte implantation ) procedure that repairs cartilage using the patient's own cells. MACI provides long-lasting pain relief and improvement in function.*
* Saris D, Price A, Widuchowski W, et al. Matrix-applied characterized autologous cultured chondrocytes versus microfracture: Two-year follow-up of a prospective randomized trial. Am J Sports Med. 2014;42(6):1384-94.
How does MACI work?
A sample of your cartilage cells (chondrocytes) is sent to a laboratory and embedded on a special collagen membrane which your doctor then implants into your knee. The cartilage cells regenerate, forming a repair tissue that is able to fill the cartilage defect. View the illustrated steps below.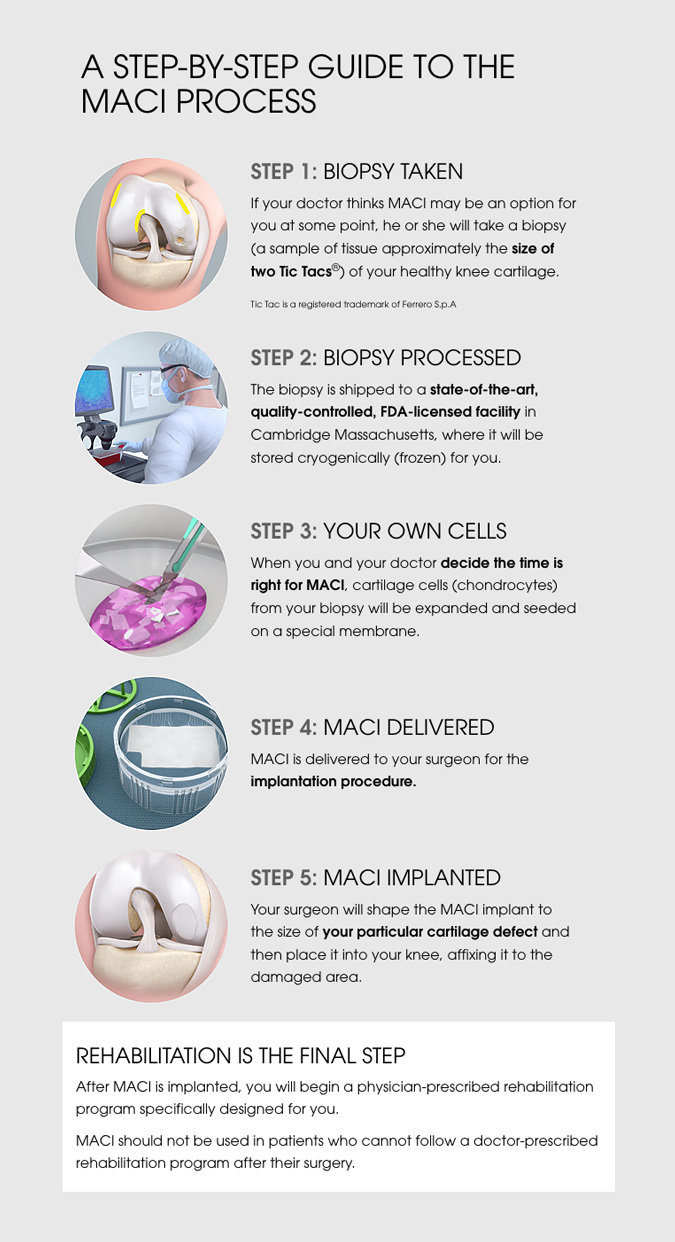 Some Frequently Asked Questions
What is MACI?
MACI is a biologic product used to repair articular cartilage injuries in adults who have not responded to a prior arthroscopic or other surgical repair procedure. It uses your body's own cultured cells to form new hyaline-like cartilage in your knee following a surgical procedure called autologous chondrocyte implantation (ACI).
Can any surgeon treat me with MACI?
Only surgeons specially trained in the implantation technique may perform the procedure. Dr. Michael Gilmore of Panhandle Orthopaedics is specially trained in MACI surgery.
How long is recovery?
Recovery time varies greatly as no two patients are alike. You can find a general guideline of recovery times on their web page - From Rehab to Recovery
Where can I find more information about the MACI procedure?
For more information visit their patient information section - How MACI Works