Volunteering for a Very Worthy Cause
This past August, Dr. Gilmore and a few of the staff members participated, as part of a group of over 235 volunteers, in a very worthy cause during the WCI conference for the Give Kids the World Village charity. The task at hand was to help freshen up areas of this wonderful destination. Armed with paint brushes, brooms, garden tools and some elbow grease, they all managed to help brighten this beautiful little village and have fun doing so.
Dr. Gilmore and his staff were honored to be a part of this special event and look forward to the next one. We encourage you to find out a little more about Give Kids the World and possibly provide some level of support.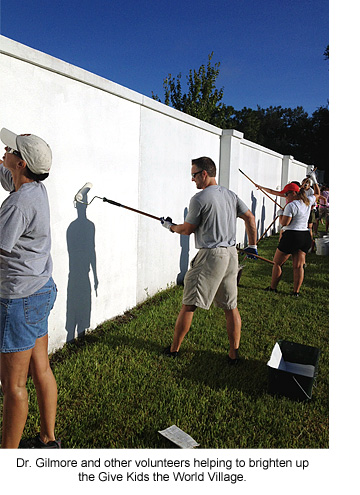 About Give Kids the World
Give Kids the World Village is a 70 acre, non-profit "storybook" resort, located near Central Florida's most beloved attractions, where children with life-threatening illnesses and their families are treated to weeklong, cost-free fantasy vacations.