Certified Physicians
Physical Therapy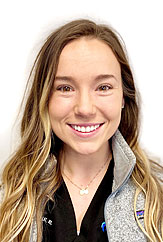 Amanda Nystrom, LAT, ATC - Clinical Team Lead
Amanda is a licensed and certified athletic trainer. Her passion for sports medicine stems from her experience as a Division II collegiate soccer player before transferring to Stony Brook University, where she received her Bachelor of Science degree in Athletic Training. She then went on to pursue her Master of Science degree in Sport and Performance Psychology from The University of Western States.
She has worked in numerous settings as an athletic trainer including the secondary school setting, sports medicine outreach, physical therapy and the collegiate setting. She has experience with a wide variety of populations including elite collegiate athletes, SOF tactical athletes, law enforcement, pediatrics, geriatrics, high school athletes, and amputees.
She is a passionate and ambitious athletic trainer who strives to exceed the standard of care. Her experience in various settings allows her to use her unique insight and skills to educate, advocate, and contribute to patient care and the athletic training profession.